The UK is facing a major cost of living crisis and one of the main drivers for this is energy costs. BBC News recently published an article shedding light on the increase in prices faced by those living on a heat network, highlighting a 500% increase in the prices residents pay. Currently half a million residents are not protected by the Ofgem price cap – but this is not the biggest challenge they face.
There is a more fundamental issue that impacts on their costs and one that can be changed even with global price increases, the war in Ukraine or problems with failing energy suppliers. And that is the efficiency of the heat network they get their heating and hot water from.
Although heat networks get their gas on commercial rates rather than the domestic rates of most households, those prices have also seen the same huge increases.
For an average user (4000kWh/year) living on a heat network with 40% system efficiency – which is quite common – they could soon be paying £1,394/year for their heat and hot water, a massive increase of £567.34 since 2020.
As the graph below shows, if domestic rates were used instead of commercial rates, the costs would be even higher – this is not the solution. The answer is to have better heat networks. The graph below also shows that each 10% improvement in system efficiency represents a real and noticeable saving in the amount paid by residents on their bills; an amount that could make a big difference over the upcoming months.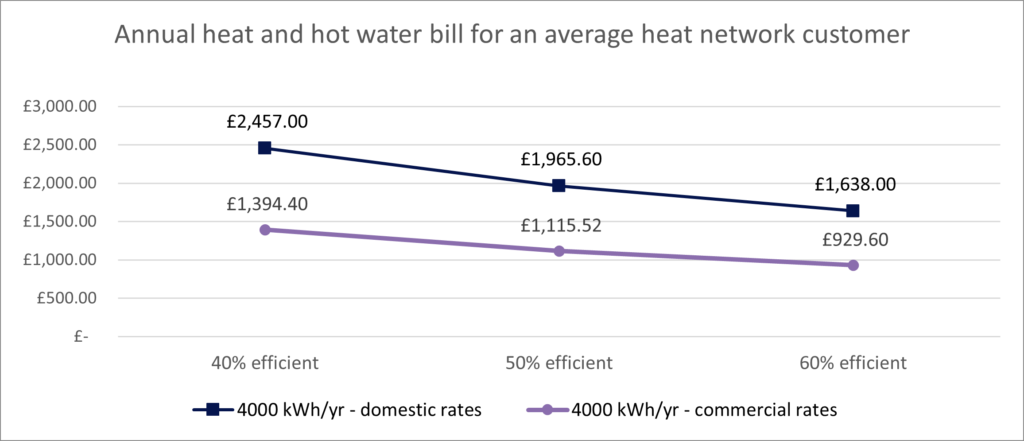 So what can housing associations and local authorities who own/operate heat networks do about this?
Analyse existing heat network data to establish system efficiency.
Address any data gaps and aim to rectify with the relevant internal/ third-party contacts.
Review heat tariffs at least annually, ensuring they are accurate, fair and transparent.
Conduct optimisation reviews at heat networks to identify measures that can be implemented on the scheme to improve performance and system efficiency.
Keep track of current and future funding opportunities that may be able to assist with improving existing schemes e.g., the Heat Network Efficiency Scheme.
Set robust repairs and maintenance regimes to avoid heat network neglect. Take proactive steps towards ensuring preventative maintenance is carried out correctly by their engineers, instead of relying solely on corrective maintenance.
Chirpy Heat can help with every aspect of troubleshooting and maintaining your heat network. If you want to know more about what you can be doing for your customers now to avoid future distress and financial hardship, get in touch at info@chirpyheat.com.