Charlotte Button, Chirpy Heat
What a whirlwind 2023 has become! We're already in August and yet the heat network sector has already faced two different energy bill support packages with the latest, in the form of the Energy Bill Discount Scheme (EBDS) requiring housing providers to register all of their heat networks. However, amidst all this noise, full regulation is still looming on the horizon for 2024.
At Chirpy Heat we have been talking about upcoming regulation for some time now and know how challenging it will be for the sector to become fully regulated energy suppliers. We want to help our clients get in the best position they can be on the journey to compliance.
On Wednesday 14th June we held the latest of our webinar series, focused on heat network regulation and had over 30 attendees from across the sector. We were kindly joined by Alasdair Silverman from the Department for Energy Security and Net Zero, who discussed the current status of the regulations with attendees, presenting an outline of expected timescales as well as providing information on the other key areas of focus, zoning and minimum technical standards. Also on the call was Chirpy Heat's Charlotte Button and Chris D'Arcy, who provided an overview of current regulations, exploring where you should already be and how best to prepare for upcoming regulations based on what we know so far.
What concerns the sector most about heat network regulation?
The session offered a great opportunity for attendees to share their thoughts on regulation and share their concerns: the results are insightful: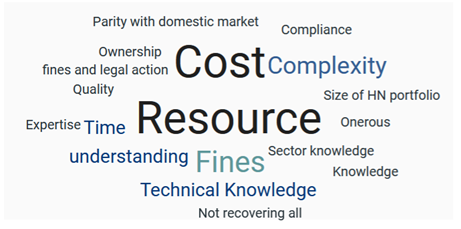 Unsurprisingly to most, cost and resource took the crown, closely followed by fines, complexity and technical knowledge. The key takeaway of the session is that you are not alone.
Next steps to ensure you get regulation ready
With the clock ticking, now is the time to begin to plan your strategic approach, to understand where your gaps lie and create a plan. We expect a transition into regulation to begin mid to late 2024, giving you 12-18 months to set yourself on the right journey. We also expect to hear more about heat network zoning and minimum technical standards over the coming months. But as always – we will keep you posted on any developments.
In the shorter term, you can find out more about how you can feed back on the next round of consultations from DESNZ by signing up to updates here.
Our next webinar take place on the 13th September, where we'll look into reducing costs and maximizing efficiency – we'll see you there!